Ethan's New Book
April 2020 note: Hi! Just a quick note to say that this post is pretty old, and might contain outdated advice or links. We're keeping it online, but recommend that you check newer posts to see if there's a better approach.
Today, our good friend and colleague, Ethan Marcotte released his first solo book effort, Responsive Web Design, the latest in the A Book Apart series that has already offered great titles by Jeremy Keith, Erin Kissane, and Dan Cederholm.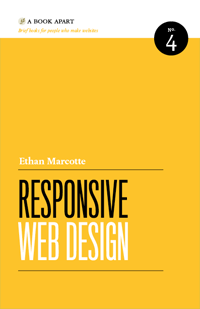 Having had the pleasure of working closely with Ethan for the past 6-8 months, we may be a tad biased, but we'll say it anyway: this book is fantastic and we can't recommend it highly enough! For those looking for a sustainable approach to designing web layouts that adapt to the multitudes of contexts in which they are viewed today (and will be in the future), this book provides a solid methodology, real-world examples, and practical takeaways that can be applied to projects immediately.
If you haven't already, head over to the A Book Apart site and grab yourself a copy now!
Oh, and Congrats, Ethan!