Filament Group's Visualize canvas charting technique demonstrated at FOWA London
April 2020 note: Hi! Just a quick note to say that this post is pretty old, and might contain outdated advice or links. We're keeping it online, but recommend that you check newer posts to see if there's a better approach.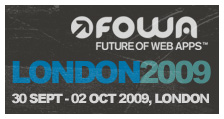 At the 2009 Future of Web Apps conference in London, Bruce Lawson gave a great presentation demonstrating some of the features of HTML 5 that can be used today. We were thrilled to see that Bruce demonstrated our jQuery "Visualize" table-to-canvas charting technique as a "brilliant example of accessible use of Canvas."
"Here's a nice example of this. This is a jQuery plug-in written by some guys called the Filament Group. What this does is it graphs the information on this accessible data table. So if for example I make this something like 450, hopefully you'll see it graph in real time. The JQuery plug-in is getting the information out of that data table and making it a graph. This is a brilliant example of accessible use of Canvas. Because of course, if you're using a screen reader, you can actually get to that information, and the Canvas supplements it."
A transcript of the talk is available: TRANSCRIPT: THE FUTURE OF HTML 5
Thanks for the mention, Bruce!