Our work
We design engaging sites and apps for mobile, tablet, desktop and beyond that are simple to use and accessible to everyone.
LEGO Shop for mobile
When LEGO approached us to help with a responsive re-design of their mobile online shopping experience, we were thrilled to prove that responsive design could be successful for e-commerce. We were fortunate to have a trove of incredible photography, UI elements, icons and illustrations that helped us capture the LEGO brand, and worked to make sure the full shopping experience was as delightful as LEGO toys. The new mobile Shop.LEGO.com site was launched in selected geographies for mobile and tablet devices in time for the 2013 holiday season to overwhelmingly positive response.
View shop.lego.com on a mobile device. (Sorry, US and UK only for now)
Objective Logistics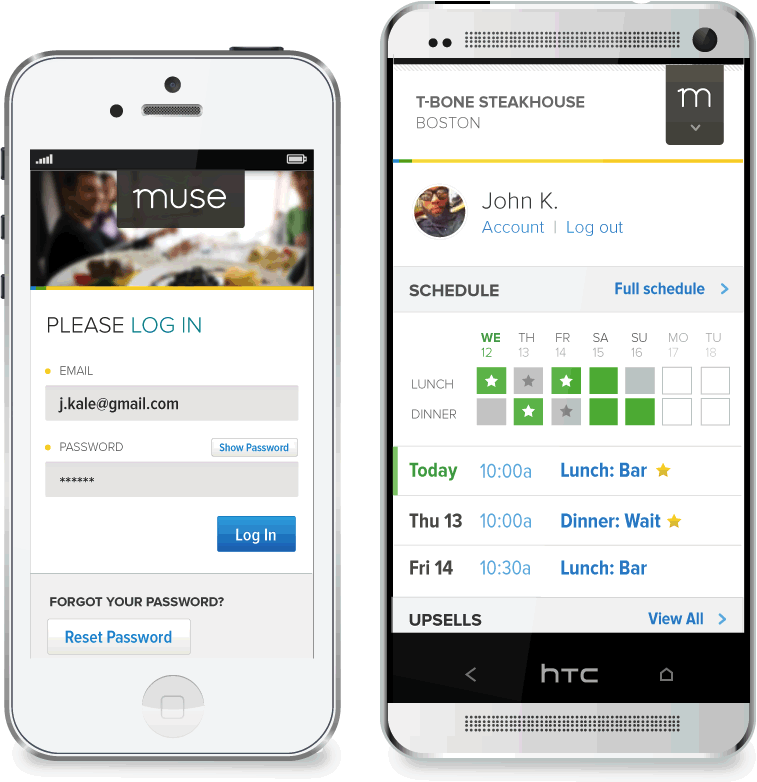 Objective Logistics is a startup with the idea of bringing gamification to the restaurant industry to empower restaurant servers, cooks and back of house teams, and other hospitality workers. Their MUSE platform channels server selling data to reward highest performers with first dibs on schedule and other perks, and at the same time gives management unique insights into performance in near-real time. We entered into ambitious collaboration to build a complex Web UI that is fully responsive and works across the broadest range of web-capable devices . We're having a blast, creating everything from the product branding and visual design system to building complex, responsive templates that really push the envelope on progressive enhancement.
GlobalNews.ca
One of Canada's largest broadcast networks wanted to go responsive with their online news site, and tapped the BostonGlobe.com team to help them do it: we brought our expertise in mobile design and high performance front-end development, in collaboration with Upstatement's visual design team. Together, we were able to create a sleek, broadcast-oriented experience that really pushed us hard to create highly optimized components like robust feature-rich HTML5 video players, news and photo carousels, and responsible methods to deliver third-party advertising and social media tools to enhance the news. Winner of the 2013 EPPY Award for Overall Site design.
Rent.com

Rent.com, the largest apartment rental site in the United States, approached us after seeing the BostonGlobe.com project, and we were excited to apply responsive design principles to a richly functional web site. We helped them freshen up their branding and create a new modern visual design system; and then built a responsive framework that abstracted out many of the key learnings from the Boston Globe and solved new problems—including robust multifaceted searching and filtering, interactive maps, solutions for responsive complex table data, broadly accessible photo slideshows and carousels, personalization and cross-device account management features, and smart capabilities tests to deliver resources only to devices that support them —many of which we open-sourced.
jQuery & jQuery Mobile
We've been involved with the jQuery project since the early days—Scott designed the early logo, and the whole team helped out with the jQuery UI initiative and created the ThemeRoller. When John Resig asked us to help lead a new initiative to build a mobile UI framework, we jumped at the chance. It was an incredible opportunity to apply principles of Progressive Enhancement, accessibility, and responsive design to new kind of UI framework that was built with universal access from the start. Our device lab grew from a handful devices to more than 70 phones and tablets with a huge range of features and capabilities during the course of the project, and we learned an incredible about the diverse mobile world. We were thrilled when jQuery Mobile was recognized as 2011 "Innovation of the Year" by .net Awards.
BostonGlobe.com

As one of the first large-scale responsive sites, the Boston Globe made history and we're very honored to have been involved. We led front-end development on the project (with Ethan Marcotte at our side) and closely collaborated with design studio Upstatement to prove that a truly accessible, multi-device experience could also be beautiful. In the process of taking Upstatement's designs into the responsive world, we learned an incredible amount, and devised some practices and tools that have become a foundation for our responsive design and development thinking around feature testing for responsible content delivery, accommodating responsive images, moving elements in the DOM based on breakpoints, and accessing local storage for offline feature support. BostonGlobe.com garnered a number of industry awards including OMA Site of the Year.
Coalesix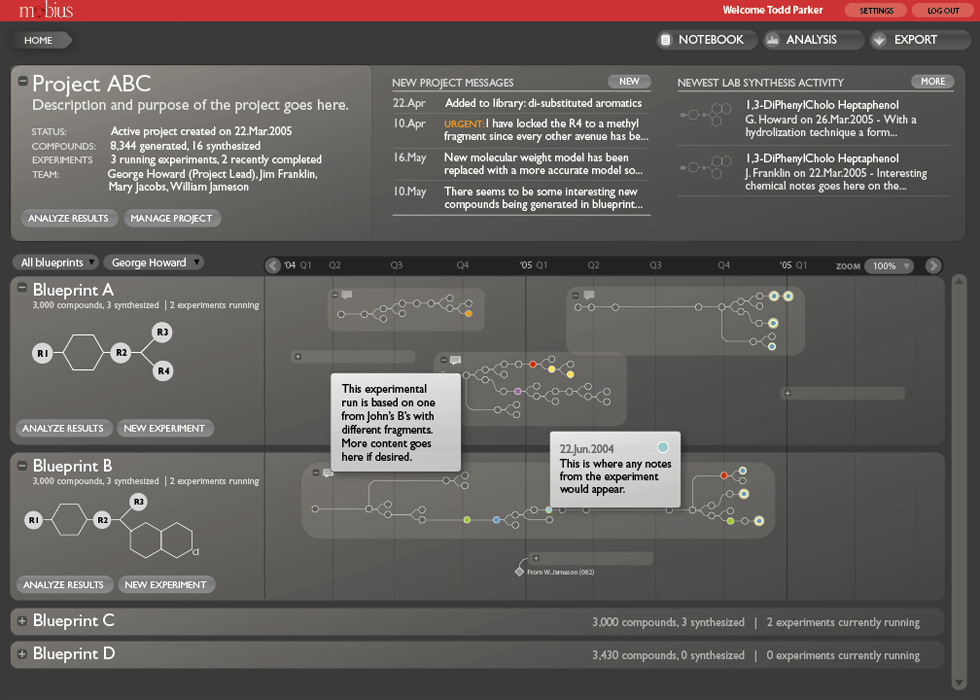 Coalesix's Mobius Candidate Design Environment is a custom-designed pharmaceutical experimentation platform that puts uniquely visual tools in the hands of research scientists to help them winnow millions of molecular compound options and rapidly isolate the most promising candidates. We knew they had an expert audience with highly specialized requirements, and we needed a very different type of application with the UI design to reflect that. The rich, layered interface system we designed puts experimental data in the forefront, and minimizes navigation overhead and other UI clutter to let scientists focus on the visualizations, data and collaboration.
Frito-Lay RSR Handheld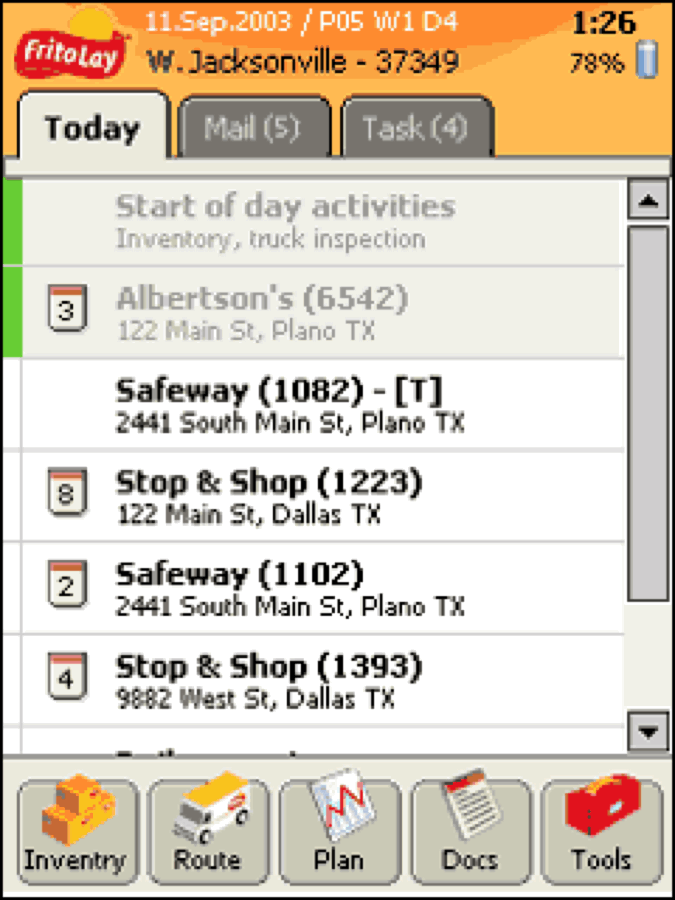 In late 2002 Frito-Lay decided to upgrade to a new handheld mobile device with a large touchscreen for their route sales representatives. It was a lucky break for us that someone from their team saw our work with Cuesol for Stop & Shop, and contacted us to help out with user interface design. We worked intensively with representatives in the field, their business analysts and their technology team to translate binders complex business rules and training manuals into an expert UI system that rewarded best practices, prevented errors and made workers more productive. We iteratively road-tested our ideas by observation in the field, and created rapid prototypes to streamline the interface based on what we saw. We then built a coded working prototype that both provided a detailed online specification to support Frito's internal business teams and their development partners, and also served as a training tool for new hires.