What We Do
Responsive Web Design
We design engaging websites for mobile, tablet, desktop and beyond that are simple to use and accessible to everyone. Here's a sampling of some of our projects across a range of industries.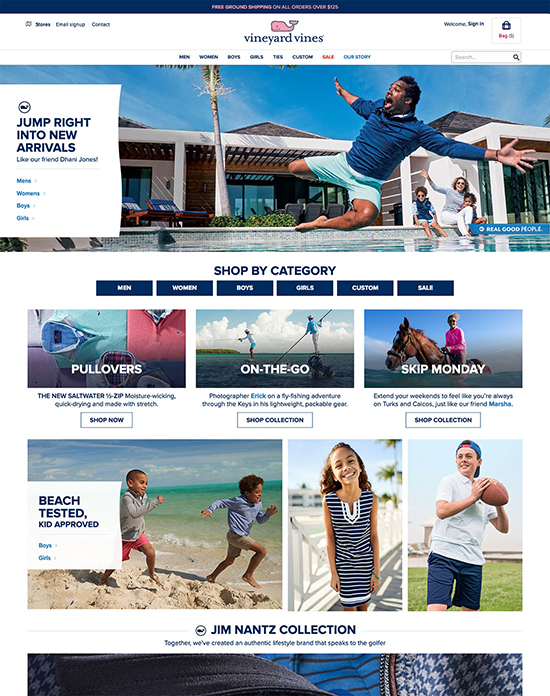 A showcase in accessibility
Our work with vineyard vines started with a project to unify the branding, design and functionality across the web and several mobile apps, and evolved into an ongoing partnership focused on optimizing the site experience, accessibility, and performance, as well as introducing new features and capabilities to support strategic and branding goals.
To our great joy, vineyard vines is passionately committed to site accessibility. We were happy to work with them on a comprehensive review of site forms and transaction functionality that resulted in greatly improved a11y-friendly form elements for numeric inputs, smarter input masking techniques.
Visit: vineyardvines.com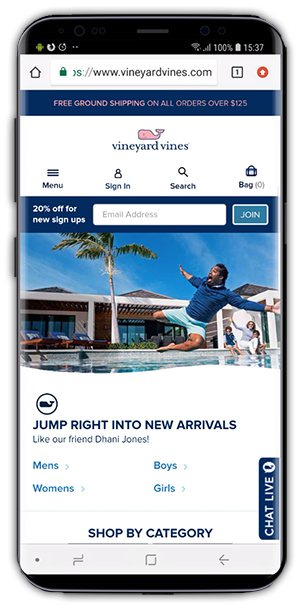 Pattern Library with a Vue
We created a set of interactive Vue-based forms in the pattern library to make it super easy to create custom marketing modules for the home and landing pages by browsing from the library of patterns, then choosing options in a form. Real-time previews make it a cinch to see how things look across breakpoints and there's a button to export the module in a JSBin to save and share it for approval.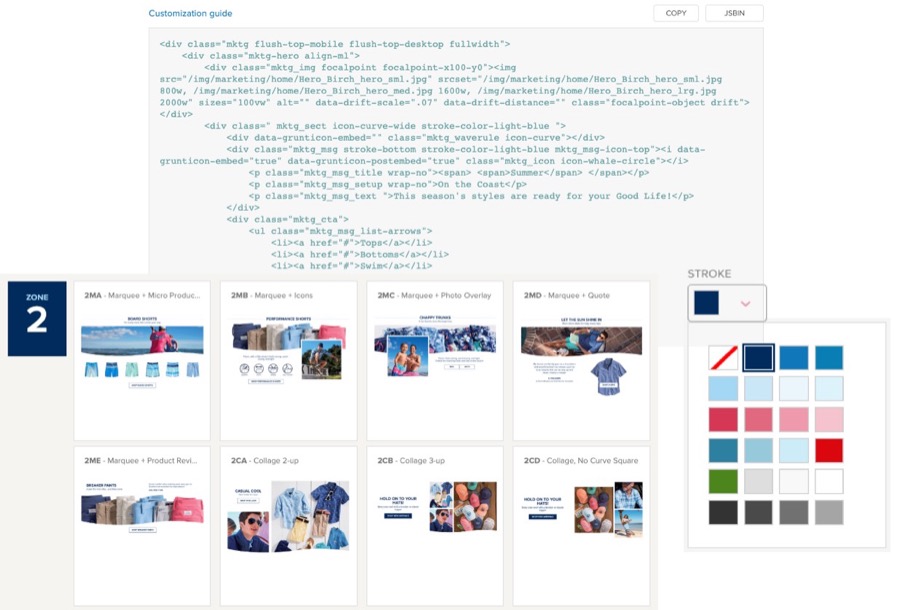 LEGO Shop for mobile
When LEGO approached us to help with a responsive re-design of their mobile online shopping experience, we were thrilled to prove that responsive design could be successful for e-commerce. We were fortunate to have a trove of incredible photography, UI elements, icons and illustrations that helped us capture the LEGO brand, and worked to make sure the full shopping experience was as delightful as LEGO toys. The new mobile Shop.LEGO.com site was launched in selected geographies for mobile and tablet devices in time for the 2013 holiday season to overwhelmingly positive response.
Boston Globe
As one of the first large-scale responsive sites, the Boston Globe made history and we're very honored to have been involved. We led front-end development on the project (with Ethan Marcotte at our side) and closely collaborated with design studio Upstatement to prove that a truly accessible, multi-device experience could also be beautiful.

GlobalNews.ca
One of Canada's largest broadcast networks wanted to go responsive with their online news site, and tapped the BostonGlobe.com team to help them do it: we brought our expertise in mobile design and high performance front-end development, in collaboration with Upstatement's visual design team.
Selected Clients
We've been fortunate to work on dozens of corporate, news and ecommerce websites over the years in a wide range of industries.